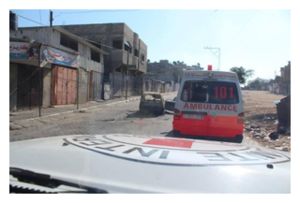 Reports from the Red Cross and international
human rights groups accuse Israeli troops of deliberately shooting and killing unarmed civilians attempting to flee for their lives in Gaza, as well as medical personnel attempting to rescue the injured.
The International Committee of the Red Cross (ICRC) has reported emergency medical workers, ambulances and civilian volunteers have all come under Israeli attack as they attempted to rescue civilians injured during the ferocious month-long air, land and sea bombardment of the densely populated strip.
On July 25, ambulances from the Palestine Red Crescent Society (PRCS) were
attacked
by Israeli forces as they attempted to rescue wounded civilians in Beit Hanoun.
The vehicles were clearly marked with the Red Crescent emblem when they were attacked. One medical rescue worker was killed and three others seriously injured in the attack.
Also on July 25, ICRC reported one of its volunteers was fatally wounded while working in Khuza'a. Israeli troops also fired on other volunteers who attempted to rescue him.
The main PRCS hospital and administrative facility in Gaza has also been
attacked
by Israeli forces, and 40 of its emergency workers have been wounded while on duty. Some 26 ambulances have also been damaged. Many ICRC ambulances have been
shot at
while attempting to rescue injured civilians.
Doctors, nurses, medical rescue personnel and ambulance drivers described the horrific and dangerous conditions under which they must work, sometimes narrowly avoiding death as they attempt to save others.