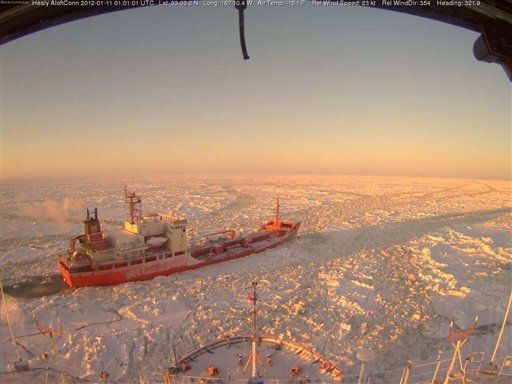 What a difference a day makes: After cutting through 53 miles of ice on Monday, a seafaring convoy trying to get fuel to ice-bound Nome, Alaska, made just 50 feet of progress through most of Tuesday.
"They were roughly in the same position" as Tuesday morning, U.S. Coast Guard spokeswoman Sara Francis confirmed to msnbc.com early Wednesday.
"Unfortunately, as we watch, there has been no real 'change up' in
Renda
's progress toward Nome since this morning," ship pilot Pete Garay told alaskadispatch.com from the Russian-flagged fuel tanker on Tuesday afternoon.
The U.S. Coast Guard icebreaker
Healy
is trying to break through ice for
Renda
, but the process can be tedious. Late Tuesday, they were still some 97 miles south of Nome, in northwest Alaska.
The two ships left Alaska's Dutch Harbor on Jan. 3 to deliver 1.3 million gallons of fuel to Nome, whose supplies could run out before the end of winter.
The convoy had hoped to make it to Nome by mid-January but the Coast Guard now says it cannot provide an estimated day of arrival.
Nome gets its fuel by barge but a November storm prevented its winter shipment from arriving before the annual sea ice formed. A fuel barge won't be able to make it in without icebreaker escort until June at the earliest, and
Nome -- which has seen temperatures of minus 40 this winter
-- could run out of heating oil by March.
One option is to fly in supplies, but that would add $3-4 per gallon of heating oil or gasoline, which already cost $6 a gallon in Nome. There is no road access to the coastal town of 3,500.
The operation is the first time a fuel ship is trying to reach any western Alaska community cut off by winter sea ice.