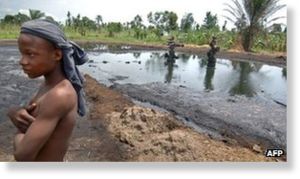 Lawyers representing a Nigerian fishing community are taking the oil firm Shell to court in London over alleged unpaid compensation for recent oil spills.
Shell has accepted responsibility for the spillage of about 4,000 barrels in Ogoniland in the Niger Delta.
But Bodo community representatives say they are having to resort to legal action after negotiations broke down.
The head of Shell Nigeria said that with different lawyers representing claimants it was difficult to resolve.
Nigeria is one of the world's major oil producers, but the oil-producing Niger Delta region remains one of the country's poorest and least developed regions.