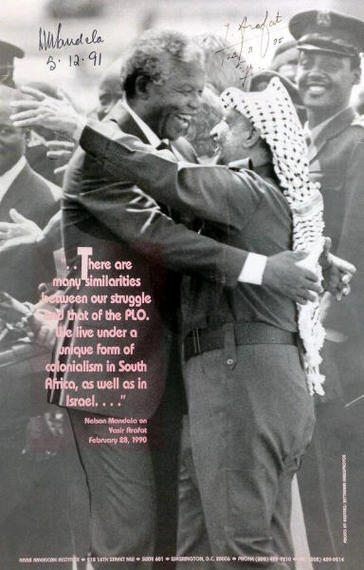 As the mainstream media publishes countless sanitised obituaries in honour of one of the world's last true peace-makers, it's important to remember that Mandela wasn't preaching 'peace at any price'. He made this quite clear on numerous occasions. While on a visit to Ireland in the mid-1990s he told reporters that the IRA should not have surrendered it weapons until the British military had withdrawn from the north of the country. In the above snippet of a speech he gave in Palestine around the same time, we hear him intimate that violence towards oppressors isn't just right, it's necessary.
Israel shares a large portion of blame for institutionalising Apartheid in South Africa, without whose financial contributions and military support the South African enclave of white supremacists would never have been able to establish and sustain the bantustan model that has since been applied to the West Bank and Gaza. Arafat, who we see seated left of Mandela, and who really tried to believe the Israelis actually wanted peace, was later discretely
assassinated by Israel
.