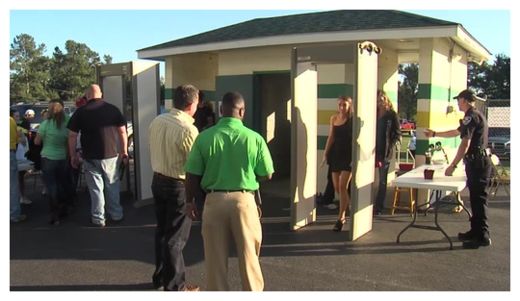 Summerville - Fans were startled by the heavy presence of police officers, drone surveillance, and warrantless checkpoints upon entry at the local high school football game.
The prison-like security at Summerville High School was called "the reality of the world we live in today." As students and fans filed into the homecoming football game on Friday, October 24th, 2014, they were forced to place their belongings in a bin for police examination, then walk through a metal detector. Stadium-goers were restricted from bringing certain items into the stands.
"It is very scary to come here tonight," said Summerville resident said Ann Almers to
WCIV
. "It's such a change, I've been coming to the stadium for so many years. Now we have armed guards. I couldn't carry my purse, I forgot my phone. I'm a little out of sorts."
Fans also were quick to notice the conspicuous presence of police officers mixed among the crowd and perched on the rooftops, surveillance drones whirring overhead, and even SWAT team members ready for action.