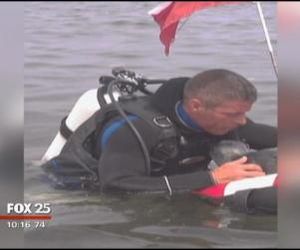 A Massachusetts couple could face a $5,000 fine after they rushed to rescue an injured baby seal at a Marshfield Beach.
Mark Hodgon was scuba diving at about 1:30 p.m. when he found the baby seal covered in shark bite marks. He said the seal was barely floating and breathing laboriously.
"You could just tell his whole body was in the shark," Hodgon said. "It had to have been."
Hodgon swam closer with a raft and helped the seal onto it then swam back to shore to take a better look at its injuries. Pictures of the event show the pup kissing Hodgon on the chin.