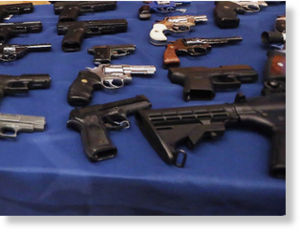 Several armed suspects have been arrested for attempts to recreate the Connecticut elementary school shooting massacre, which killed at least 27 people, including 20 children.
In Indiana, a man identified as Von Meyer, 60, was arrested on Sunday after threatening to light his wife on fire and kill as many people as possible at Jane Ball Elementary School. Police discovered 47 guns and ammunition in his home, worth a total of over $100,000.
Officials fear the Indiana man is only one of a number of copycats who may try to imitate the Connecticut massacre, CBS reported.
The copycat shooting phenomena, in which an attacker is inspired by a gun massacre and tries to re-create it, is not new. The US has seen numerous copycat shooting, even giving the syndrome a name - the
'Werther Effect.'
Adolescents are said to be the most susceptible to it.
Another incident over the weekend involved a shooter opening fire at a clinic in Uruguay to imitate the
Connecticut
school shooting, according to the suspect's police statement. The suspect fired three shots and was arrested on site, local media reported.