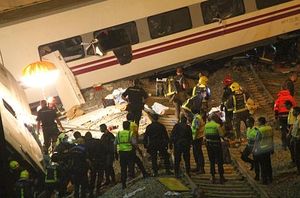 Spanish transport minister Mr Rafael Catala has confirmed in a radio broadcast that excessive speed is believed to be a factor in the derailment of a Madrid - Ferrol service 4km south of Santiago de Compostela on July 24, which killed 78 people.
Police are waiting to question the hospitalised driver, who is under formal investigation, and the train event recorder has now been recovered from the wreckage for analysis.
The accident occurred in the transition section between ETCS Level 1, which is used on the 87km Ourense - Santiago high-speed line over which the train had travelled, and the standard Spanish Asfa system used on the conventional network. Santiago is one of dozens of ETCS-Asfa transition points on the Spanish network.
IRJ has learned from a senior source at Renfe that while ETCS is operable on the Ourense - Santiago high-speed line, class 730 sets of the type involved in the derailment operate exclusively on Asfa on this route despite the fact that they are equipped with ETCS
. All other passenger trains operating on this line, including the fleet of class 121 Avant emus, operate on ETCS. The reasons for this have not yet been firmly established.