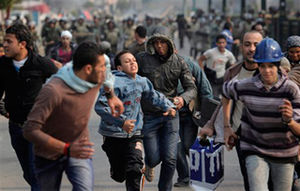 We asked Lauren Unger-Geoffroy, an Arabic-speaking American who lives in Cairo, to share her perspective of life in Egypt after the revolution. In this entry, she writes about a new surge in army brutality in suppressing protest.
Foreboding and warning. Egypt should have felt it coming. This was the worst so far. Hope is gone. The people are in despair. As our imam shouted Friday at noon prayer: Will it get worse before we have cleansed the land of Satan?
Authorities are now accusing
164 people
of being involved in the new violence and interrogations have begun, with even injured people being questioned in hospitals. Many of the suspects are under 19 years old. Some are children, street kids accused of throwing Molotov cocktails. Some of the doctors at Omar Makram field hospital are being detained. At least one of the detainees has died from his injuries; activists accuse the army and security forces of torturing him in the headquarters of the national Cabinet.
Yet in my neighborhood Thursday night, a time when most Egyptians still were unaware of the beginning of this catastrophe, there was a hopeful festiveness stemming from the opening of a restaurant by a famous takeout food company. Blasting Egyptian dance music through the mosque speakers till midnight, the event was like a wedding celebration, full of lights and decorations.
The spanking-new restaurant brought some prestige to our garbage-strewn and unpaved market area. Groups of cute girls, dressed up, and guys from a nicer area a few blocks away are showing up for El Shabrawy takeout.