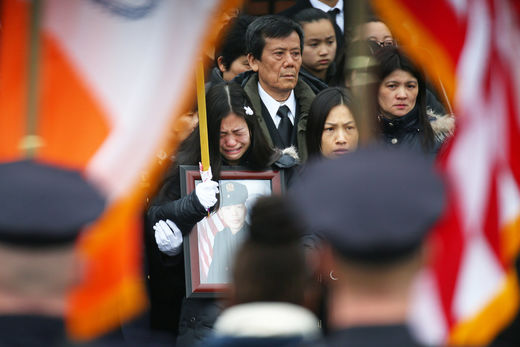 Sunday's funeral for New York City Police Officer Wenjian Liu marked the continuation of a political counterattack aimed at rendering illegitimate and even outright criminal the growing resistance to police violence.
Similar to last week's ceremony for Rafael Ramos, who was gunned down alongside Liu on December 20, what occurred over the weekend was a political operation coordinated by high-ranking officials from all levels of government. Liu was eulogized not only by family members, but also by New York City Mayor Bill de Blasio, Police Commissioner Bill Bratton, and FBI Director James Comey. New York Senator Chuck Schumer, Governor Andrew Cuomo and dozens more politicians made appearances either at the funeral Sunday or the wake Saturday.
Thousands of cops from around the country traveled to Brooklyn to attend the proceedings. Together with NYPD officers they filled the cordoned-off streets for blocks outside the funeral home. Giant projection screens broadcast the proceedings to the cops assembled outside. Cable news channels carried the event live.