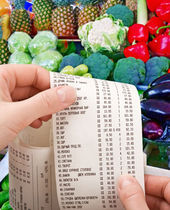 Cape Town - A comparison between a basket of goods by sister publication
City Press
on how food prices have increased over five years shows that seven basic items alone have increased by an accumulative 49% from January 2008 to April 2013.
The cost of bread, meat, milk, cheese, vegetables, sugar and cooking oil among others in January 2008 were compared with prices for the same products in April 2013. Where consumers had to pay R189.94 in January 2008 for these products, they now had to fork out R283.09 for the same items, a 49% increase from five years ago.
Other items in the basket that were compared, included luxury, "sin" goods chocolates, coffee, beer, wine and cigarettes, which also showed an accumulative 49% increase in the review period.
The price of bread alone skyrocketed 69% in the 5-year period, while meat went up 40%.