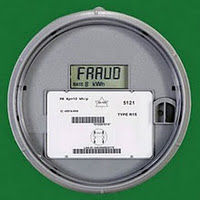 Many Idaho residents want nothing to do with the new Smart Meters forced on them by Idaho Electric and the Public Utilities Commission in order to replace analog electric meters.
Some simply don't want them, others don't appreciate the eerie surveillance of residents' whereabouts and usage and the ability for remote power shut-off, especially where medical devices are concerned.
Most alarming have been the health effects from the EMF output - headaches, insomnia, nausea, ringing ears and more reported by residents nationwide.
Idaho Electric has been caught installing Smart Meters without permission, despite protest, even hopping fences while residents are away. Whether residents are home or not, IE reps have brought armed law enforcement to make sure the job gets done and police go without questioning or filing paperwork.
The media has been strangely quiet about the incidents and the outraged residents. One reporter interviewed an investigative blogger who brought the incidents to light, and wanted to clear it with her editor first. The story never made it to the papers. If anything, the mainstream media have lauded the new "energy efficient" Smart Meters despite growing evidence of health hazards and power spying.