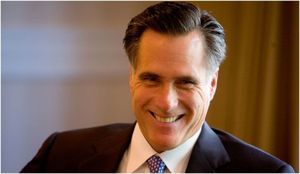 A classmate who remains anonymous said that there are "a lot of guys" who went to Cranbrook who have "really negative memories" of Romney's behavior in the dorms, behavior this classmate describes as "like Lord of the Flies."
One of Mitt Romney's closest friends and a high school classmate has been asked by the Romney campaign to come out and offer "supporting remarks" in defense of the candidate following a
Washington Post
article that described pranks at the Cranbrook School in the 1960s that focused on a student who was "presumed" to be gay. Romney has denied that the pranks were targeted.
Romney's older brother Scott called White, asking him to act as a surrogate for Romney on their high school years.
White, in an interview with ABC News, said that he is "still debating" whether he will help the campaign, remarking, "It's been a long time since we've been pals." While the
Post
reports White as having "long been bothered" by the haircutting incident," he told ABC News he was not present for the prank, in which Romney is said to have forcefully cut a student's long hair and was not aware of it until this year when he was contacted by the
Washington Post
.
According to White, he knows of several other classmates that have also been approached by the campaign to counter the article. White declined to name the fellow classmates.