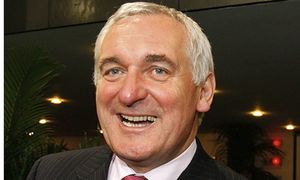 Ireland's former prime minister Bertie Ahern was assaulted in a Dublin pub on Friday night.
Ahern was attacked with a crutch by a man in his forties inside the Sean O'Casey bar just off O'Connell Street, the Irish capital's main thoroughfare.
His attacker, who was said to be extremely drunk, was later arrested by the Garda Síochána and detained overnight in a city centre police station.
The former taoiseach has declined to talk about the attack, which comes three years after he was verbally abused by a number of customers in another Dublin pub.