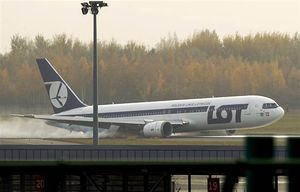 230 passengers on board aircraft which flew from Newark airport
A Boeing 767 from Newark carrying 230 passengers made an emergency landing in Warsaw
after its landing gear failed to open
.
Leszek Chorzewski, the spokesman for LOT, the Polish airline that operated the flight, said none of the passengers was injured.
"All safety procedures worked perfectly fine and, thanks to this, nobody was injured," Chorzewski said.
Live television footage showed the plane landing on its belly, with a few sparks flying as the craft hit the runway which had been covered with flame retardant foam.
There was no blaze but firefighters hosed the plane with water and foam as a precautionary measure.
Passengers could be seen fleeing the plane. The airport has been closed until 8 a.m. on Wednesday.