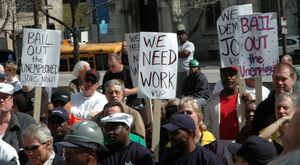 This weekend, more than 200,000 unemployed workers in eight US states will be abruptly cut off from extended federal unemployment benefits, the result of an agreement between President Barack Obama and the Republican Party earlier this year. Many of these workers will be thrown directly into poverty, without even minimal cash assistance.
These ruthless actions occur amidst a continued jobs crisis in the US, with near-record long-term unemployment and stagnating job growth. While the official unemployment rate has fallen - which has been used to justify the elimination of extended benefits - this is due largely to the fact that hundreds of thousands of long-term unemployed are no longer counted as part of the labor force.
The biggest cuts will take place in the country's most populous state, California, where 95,300 people will lose their benefits, according to an
estimate
produced by the National Employment Law Project. Other states cutting off extended benefits include Texas (22,700), Illinois (26,100), Florida (29,400), Pennsylvania (20,000), North Carolina (20,100), Colorado (11,100) and Connecticut (10,700).