By praising Tony Blair's Gleneagles agreement, celebrity economist shows he knows nothing of the absurdity of aid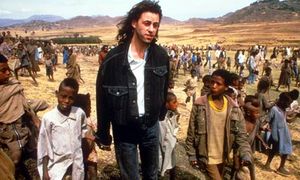 Bob Geldof is a humanitarian activist. He is also an egotist, a celebrity economist, and quite wrong on
Africa
.
Geldof, the lead singer of the Boomtown Rats, sprung to global prominence with his role in Band
Aid
to raise money for the Ethiopian famine. The single sold nearly 12 million copies; the
Live Aid
concerts raised £150m. For these efforts Geldof received an honorary knighthood and was elevated to a spokesman for African development.
But the reason for the famine that catapulted him to prominence had less to do with the weather than the Ethiopian government's policy to withhold food shipments to rebel areas and to spend nearly half of its gross domestic product on the military. Aid became a tool of the counter-insurgency strategy, being left to rot or distributed according to political objectives. The same political issues shape African development choices today and these, not external activism on aid, are key to the continent's future.