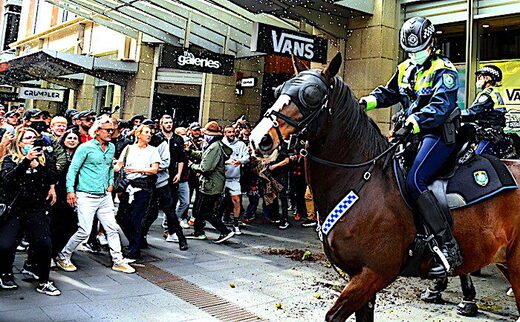 New South Wales reported a record high number of covid cases on Tuesday despite more than four weeks of lockdown for the Sydney region, with signs tough measures could extend until September.
"Vaccination is the key to our freedom.
Getting jabs in arms is a key part of our strategy," said state premier Gladys Berejiklian.
Comment:
Can't get much more Orwellian than that, and there's
stiff competition
, with New Zealand's Jacinda Ardern at the top of the leader board.
"I want August to be the month where everyone comes forward to get the jab. That is key to us being able to see what September looks like.
I don't think anyone can deny
that the vaccination rate is absolutely key to how we live life in NSW."
Comment:
Numerous experts can refute the need to suffer an experimental vaccine for the relatively harmless coronavirus; moreover,
anyone
, regardless of whether they are an expert or not, can
refuse
to participate in this already provably dangerous medical trial.
The lockdown had been due to end on Saturday
but with less than 13% of the state's population fully vaccinated, curbs in some form were expected to remain.

Comment: Meaning that the state will enforce lockdown until they've coerced enough citizens into being vaccinated.