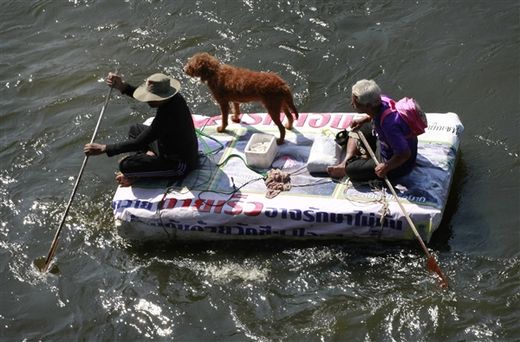 Thailand - One of the most striking things about the Thai floods is the sheer ingenuity people have shown to simply get around.
I've seen all manner of aquatic contraptions, from rafts made from empty drinking water bottles to crafts fashioned from larger plastic drums, with a bicycle mounted on the deck driving a home-made propeller through the increasingly fetid waters.
Thailand's National Science and Technology Development Agency even ran a competition called "Mobility in the Time of Flood," which attracted 89 entries and was won by another bicycle-driven raft cobbled together by a bunch of students. The Bangkok Post devoted most of its back page to the contest Tuesday under the headline "Amateur Inventors to the rescue."
It provided a note of humor amid increasingly angry recriminations over who's to blame for
a deluge that's swamped a third of the country and killed more than 600 people
. The floods have also affected some 10,000 factories, and hit the global supply chain for automotive parts and hard disk drives.