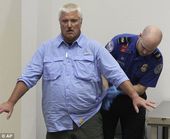 Texas has become the first state to ban intrusive airport security pat downs.
The bill, passed late last night, aims to make touching travellers in an 'inappropriate' way during searches a criminal offence.
The measure makes it illegal for anyone conducting pat-downs to touch 'the anus, sexual organ, buttocks, or breast of another person' including through clothing.