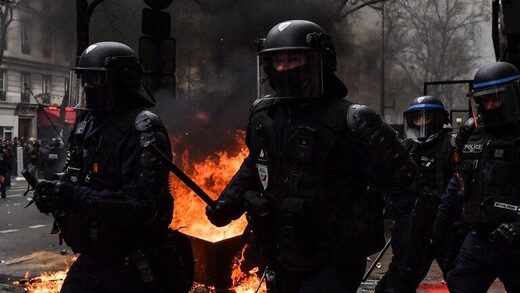 A pension reform protest in Paris degenerated into violence on Tuesday, as groups of masked rioters clashed with heavily-armored riot police. Authorities say nearly 100,000 people marched in the French capital, as public anger over the government's pension reform plan refuses to subside.
The march started out peacefully, but as the crowd neared its destination of Place de la Nation in the east of the city center,
activists dressed in black
set fire to a storefront, prompting police to charge the crowd with batons drawn. Demonstrators were clubbed back and water cannons brought out to disperse stragglers.

Comment: Agent provocateurs?


Video footage showed ranks of officers raining down blows upon the frontmost rows of demonstrators, some of whom responded by throwing rocks and other projectiles.