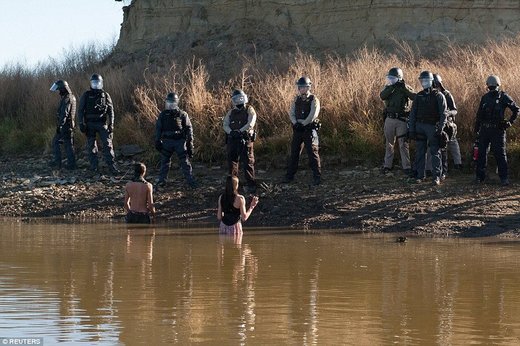 December 5 will be a fateful day in the saga of the Dakota Access Pipeline (DAPL) protests, as the
Army Corps of Engineers announced
they will close all lands north of the Cannonball River, which includes the Oceti Sakowin protest camp.
We can expect that the camp will be forcibly cleared and protesters evicted by the same militarized police forces - and possibly National Guard - that have been
acting as protection services for Energy Transfer Partners
, the company behind DAPL.
What makes this even more concerning is that veterans, possibly numbering in the hundreds, have
committed to join the protests on Dec. 5-7
to stop DAPL and defend water protectors. They are organizing "like a military unit" and say they are prepared to take a bullet, rubber or otherwise.
The gathering of militarized police forces protecting the 1,172-mile-long, 30" diameter oil pipeline is not just from North Dakota, but includes at least six other states — Wisconsin, Indiana, South Dakota, Minnesota, Wyoming, and Nebraska. This
multi-state force is only possible by
abusing a law meant to aid states in times of natural disaster
.