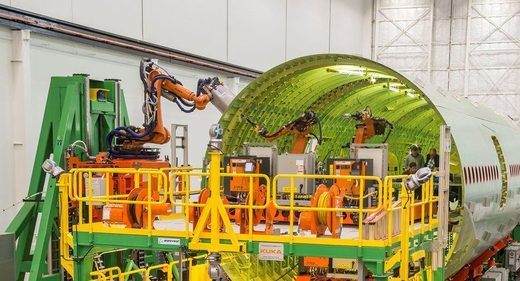 After enduring a manufacturing mess that
spanned six years and cost millions of dollars
as it implemented a large-scale robotic system for automated assembly of the 777 fuselage, Boeing has abandoned the robots and will go back to relying more on its human machinists.
Boeing said Wednesday it is reverting to an older approach that "
has proven more reliable, requiring less work by hand and less rework, than what the robots were capable of."
The robotic system entailed holding the large curved metal panels that make up the 777 fuselage sections right-side up in a cradle as the moving robots stitched the panels together, drilling holes and adding tens of thousands of fasteners.
Because this was different from the traditional build process in which the lower fuselage was built upside down, then flipped before the upper fuselage was added, Boeing awkwardly dubbed it the
"Fuselage Automated Upright Build" process or FAUB
.