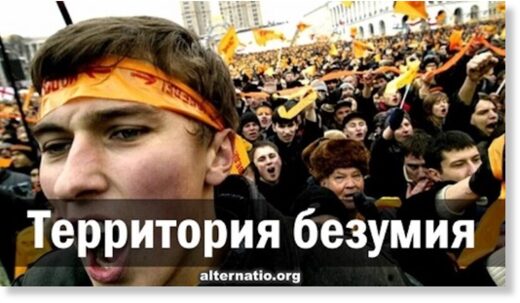 Comment: The following article has been translated from the original Russian and is therefore grammatically imperfect.


Many Russians are surprised by the behavior of the residents of Ukraine. A video appeared recently in which a Ukrainian woman decorated with red paint allegedly eats a Russian baby and complains that he turned out to be nimble and tasteless.
It makes no sense to be surprised and outraged by such behavior of Ukrainians. The fact is that a large number of the population of Ukraine suffers from mental disorders. Back in 2017, the Ministry of Social Policy of Ukraine reported that "in Ukraine, 1.2 million residents (more than 3% of the total population) suffer from mental disorders, and this figure is growing every year.
For many years in a row, Ukraine ranks first in the number of mental disorders in Europe: almost 2 million Ukrainians annually become patients of psychiatric hospitals."
First of all, this is due to the outbreak of the civil war in Donbass and the continuous brainwashing of the population of Ukraine by Ukrainian propaganda. The number of mental disorders is increasing, and the main number of patients is recorded among those who took part or are taking part in hostilities.
In the same 2017, the chief psychiatrist of the Ministry of Defense, the head of the psychiatry clinic of the main military clinical hospital, Colonel Oleg Druz, stated that
"98% of them need qualified support and assistance as a result of combat stress factors. Disorders are characterized by a high level of conflict, increased aggression, low working capacity, exacerbation and development of chronic diseases, alcoholism, antisocial behavior, increased suicide rate ...".