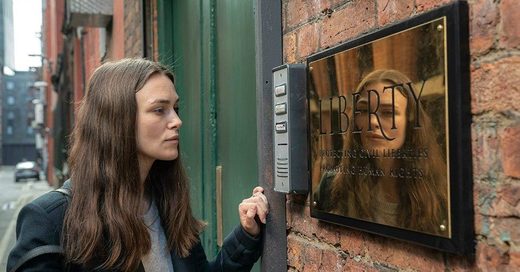 Official Secrets
, co-written and directed by Gavin Hood, is one of the best movies ever made about investigative reporting and whistle-blowing — a film in a league with
All the President's Men
and
Snowden
.
Like the 1976 Watergate classic starring Robert Redford and Dustin Hoffman as Bob Woodward and Carl Bernstein, and Oliver Stone's 2016 drama about exposure of the National Security Agency's clandestine mass warrantless surveillance program, the U.K.-set
Secrets
is based on a true story.
The film is about Martin Bright, a reporter with
The Observer
(played by Matt Smith), and Katharine Gun, a translator for the British government (played by Keira Knightley). Gun is responsible for what Pentagon Papers leaker Daniel Ellsberg
called
"the most important and courageous leak I have ever seen. No one else — including myself — has ever done what Gun did: tell secret truths at personal risk, before an imminent war, in time, possibly, to avert it."
In early 2003, during the lead-up to the U.S. attack on Iraq, Gun came across an email from a shadowy National Security Agency official named Frank Koza.
It revealed U.S. plans to spy on U.N. Security Council members in order to blackmail them into voting for a resolution approving a military offensive against Baghdad.
The resolution was seen as key to providing the strike with a fig leaf of legitimacy from the international community for a war based largely on the dubious proposition that Saddam Hussein possessed "Weapons of Mass Destruction."