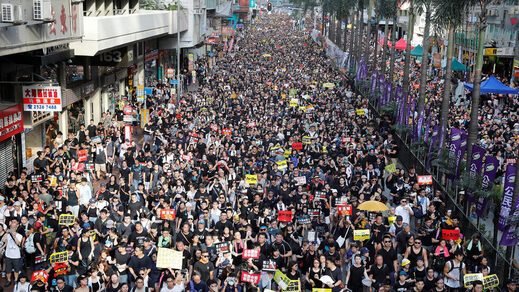 Allegations that pro-democracy activists in Hong Kong have been paid for their activities have swirled for years but have always been strenuously rubbished by the Western media. Now, an academic study seems to confirm just that.
Secreted in the depths of academic journal American Economic Review's June edition is an absolutely extraordinary research
paper
, revealing that
a team of Western scholars conducted a somewhat peculiar study analyzing why students attended protests in Hong Kong - and that participants were paid to do so.
The paper's abstract notes that the
academics set out to study "the causes of sustained participation in political movements." In order to "identify the persistent effect of protest participation," and the role of social networks in organizing and motivating protests and protesters, they "randomly indirectly [incentivized]" - that is, paid - 849 students at the University of Hong Kong to participate in an "antiauthoritarian protest" for two years running, in 2017 and 2018.
The protest in question was the annual July 1 march, which has been convened every year since 1997, the year of Hong Kong's handover from the UK to China. The academics say the marches studied were "peaceful" and "modestly sized", attracting around 50,000 citizens, and sought "to both achieve policy concessions and signal the strength of the movement."
They found that "incentives" to attend a political protest increased and, indeed, sustained subsequent crowd sizes, "but only when a sufficient fraction of an individual's social network [was] also incentivized to attend the initial protest."