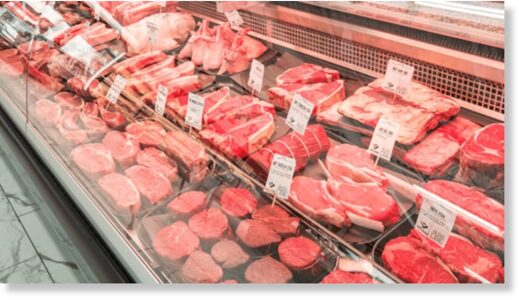 Comment:
From Patrick Wood's Technocracy News and Trends:
Crickets, mealworms, and cockroaches are more sustainable than cattle, pigs, and sheep. The UN claims that one-third of all global "greenhouse emissions" come from agriculture, mostly from livestock and most of that from cattle. In December 2023, The UN Food and Agriculture Organization (FAO) will officially present the first Agriculture Roadmap for Net Zero By 2050. Of course, this will mean "shifting diets to reduce global production of livestock-based protein."

This attack on food could cull the human population by billions. The remainder will "eat ze bugs."
The world's most-developed nations will be told to curb their excessive appetite for meat as part of the
first comprehensive plan to bring the global agrifood industry into line with the Paris Climate Agreement.
The global food systems' road map to 1.5C is expected to be published by the United Nations' Food & Agriculture Organization during the COP28 summit next month.
Nations that over-consume meat will be advised to limit their intake,
while developing countries — where under-consumption of meat adds to a prevalent nutrition challenge — will need to improve their livestock farming, according to the FAO.

Comment: Somehow we don't think the FAO is all that concerned about improving livestock farming in developing countries. But lessening access to one of the most nutrient-rich sources of food available to first-world countries, yes.