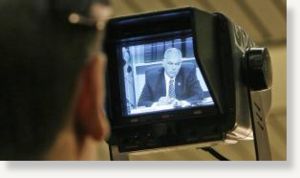 A CRTC proposal that could make it easier to broadcast false or misleading news has prompted confusion and criticism among opposition MPs and consternation in at least one of the unions that represents Canadian journalists.
It has also led to allegations of interference by the Prime Minister's Office and a hastily called investigation by federal politicians, who were caught off guard by the move.
CRTC appointment smacks of cronyism, NDP says
Majority scoffs at usage-based Internet billing in poll
CRTC gives green light to Sun TV
A little-watched committee of Parliament has been pressing the Canadian Radio-television and Telecommunications Commission for many years to do something about a regulation that bans the broadcast of false or misleading news because the wording appears to contravene the Charter of Rights and Freedoms.
Andrew Kania, the rookie MP who is the chairman of the joint committee for the scrutiny of regulations, said on Monday the committee has been asking the CRTC about the regulation for a decade.