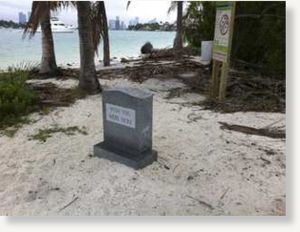 The Henry Flagler Memorial on Monument Island recently made what is likely its first ever cameo in an adult movie, and city officials are not amused.
When Miami-Dade voters agreed to spend $1 million to restore the Flagler Memorial on Monument Island, many hoped beautifying of the county's most revered historic structures would attract new visitors.
They probably didn't count on porn stars to be among them.
The lushly landscaped island between the Venetian and MacArthur causeways, which boasts a 110-foot obelisk honoring Florida pioneer Henry Flagler, is now the backdrop for an online porn video produced by RealityKing.com.
The film shows a redhead credited only as "Brooklyn" showing off what could loosely be described as her acting chops with fellow thespian "JMac."
Miami Beach officials - and at least one local historian - are not amused.
"This is not an uninhabited island miles off the coast," Assistant City Manager Hilda Fernandez said. "It's in the middle of a very busy bay. You can't go filming pornos in public parks."
On Feb. 5, RealityKing.com posted the adult movie, called
Island Adventure
, and credited the posting to "Captain Stabbin." The film runs about 50 minutes, including travel time to the island.
The Freudian implications of filming a sex scene in the shadow of a soaring obelisk is ripe for debate.