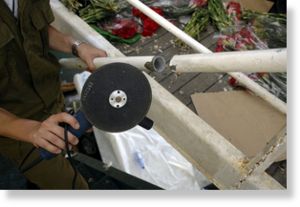 As many of you know, the state of Israel boarded the recent humanitarian mission to Gaza, killed several people on board, injured others, hijacked the boats and subsequently took all 700 people to a prison facility in southern Israel. These are the facts of the matter.
Ever since the event a plethora of lies, justifications and paramoralistic nonsense has been spouted from the mouths of the Israeli authorities and American mainstream media pundits. The biggest of all, and most easily disprovable, is that the flotilla contained weapons bound for Gaza to be used against Israeli's.
Israel has
published pictures
of "weapons" and "war material" that they confiscated from the freedom flotilla, this cash of "deadly weapons" comprises kitchen knives, pocket knives, assorted poles, angle grinders, gas masks and some flak jackets. What? No guns??
But wait, kitchen knives on board a ship that was feeding hundreds of people on a week-long voyage? Shocking! Assorted long poles...on a ship?? Outrageous! Gas masks and bullet proof vests in the possession of people who had planned to disembark in Gaza, the world's biggest open-air prison where innocent people are regularly assaulted with tear gas and shot at by IDF troops? Unthinkable! And the angle grinders! Good lord, now there's a deadly anti-personnel weapon to beat them all!