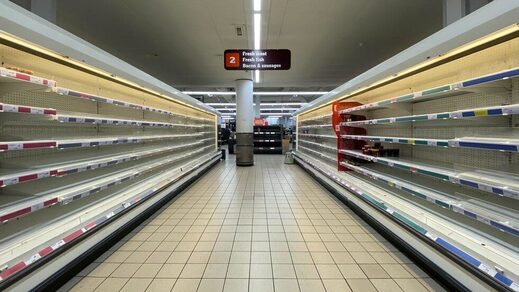 A global supply chain crisis is brewing, leading to a full-spectrum shortage of essential items. This is the result of mass centralization, where policies are dictated and synchronized by the aristocrats of the New Normal.
The coming years will be marked by extreme socio-economic turbulence. The world is reportedly facing an "
everything shortage
" where essential goods are getting harder, farther, and more time-consuming to find. These shortages affect the entire gamut of the social pyramid structure. The typical production to delivery cycle is repeatedly hammered by a macabre musical chair of woes in tune with Murphy's Law: "
Anything that can go wrong will go wrong
."
If the problem is not a lockdown, then it is a dearth of raw materials. If ports are ready to unload raw materials and finished products, then truckers are unavailable to pick them up. If truckers are available, ports are unable to process freights. Alternatively, the problem could be an acute power or fuel shortage. Coronavirus restrictions worldwide have also led to a shortage of essential labour, ranging from
garbage collectors
to pilots. Under the pyramidical hierarchy of the
New Normal
, only the capstone representing the
top 0.1%
is truly detached and thriving.