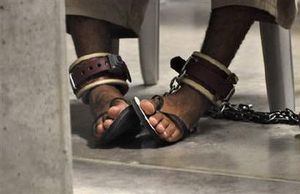 London - Leaked U.S. military documents reveal that a Guantanamo Bay detainee was freed after informing on 123 other prisoners, despite concerns about the reliability of his evidence, a British newspaper reported Tuesday.
The Guardian
,
The New York Times
and
El Pais
are publishing details of more than 750 leaked U.S. military dossiers on terrorist suspects held at Guantanamo. They reveal that the detainees ranged from close associates of Osama bin Laden to seemingly innocent men held even though they were judged to pose little threat.
The Guardian
said the prolific informer, a Yemeni man captured in Pakistan in December 2001, gave detailed information about al-Qaida activity in Afghanistan's Tora Bora mountains and identified other detainees as militants.