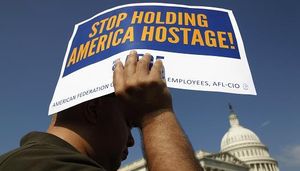 President Barack Obama and lawmakers must rise above their incessant bickering and do more to end the partial government shutdown, according to a poll Wednesday that places the brunt of the blame on Republicans but finds no one standing tall in Washington.
"So frustrating," Martha Blair, 71, of Kerrville, Texas, said of the fiscal paralysis as her scheduled national parks vacation sits in limbo. "Somebody needs to jerk those guys together to get a solution, instead of just saying 'no.'"
The Associated Press-GfK survey affirms expectations by many in Washington - Republicans among them - that
the GOP may end up taking the biggest hit in public opinion from the shutdown, as happened when much of the government closed 17 years ago. But the situation is fluid nine days into the shutdown and there's plenty of disdain to go around.
Overall, 62 percent mainly blamed Republicans for the shutdown. About half said Obama or the Democrats in Congress bear much responsibility.