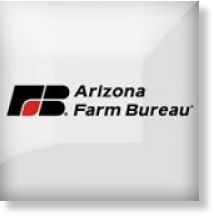 Arizona retail food prices at the supermarket are up in the third quarter of 2013, according to the latest Arizona Farm Bureau Federation Marketbasket Survey. The informal survey shows the total cost of 16 basic grocery items was $50.87, up $2.90 or about 6% more than the second quarter of 2013. Comparatively, the American Farm Bureau Federation's national survey was $53.20, up $1.66 or about 3% higher than their March semi-annual survey.
Compared to this time last year, the 2013 third quarter Marketbasket survey shows that Arizona's food prices have increased about 3.5 percent.
"Everyone is looking to save money." says Julie Murphree, Communications Director for the Arizona Farm Bureau. "I'd encourage Arizona families to keep hunting for those bargains in our basics like your meats, fruits, vegetables, diary and eggs to stretch your food dollars."
Of the 16 items surveyed in Arizona, seven decreased and eight increased compared to the 2013 second quarter survey.
"Stronger demand on the consumer side helped push retail prices higher for some items such as chicken breasts, bacon and shredded cheese," said John Anderson, American Farm Bureau's deputy chief economist. "Meat and dairy items will likely be the main driving force behind expected retail food price increase in the coming year."