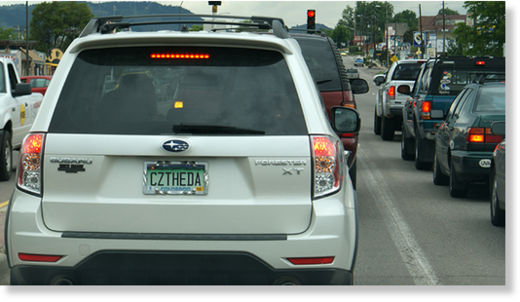 The legalization of recreational marijuana use may be bringing some tourists into Colorado, but local residents driving out of state are now reporting multiple episodes of what they believe to be "license plate profiling" by police.
According to Yahoo News, there's been a rise in such accusations among Colorado citizens ever since the state voted to legalize marijuana in 2012. Multiple residents driving in other states have reported being stopped by police for no reason other than to have their car searched for pot.
One such case reportedly occurred in January, when a state trooper in Nevada pulled over Colorado resident David Adkins near Las Vegas. According to local news outlet KRDO, Adkins said the state trooper was actually trailing another target for speeding when he quickly changed targets and began following Adkins.
The incident occurred less than a month after stores in Colorado began selling marijuana, and Adkins believes it's clear he was stopped for potentially carrying the drug, which has only been legalized in two US states.