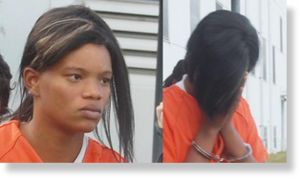 Twin sisters face three counts each of reckless murder in connection with the burning deaths of three of their children in Atmore, Alabama.
Akeevia Lajoseia Abner and Tekeevia Lajoseialan Abner, 18, were taken into custody on Monday by the state fire marshal. A bond hearing has not yet been set.
Escambia County District Attorney Steve Billy said the women left 3-year-old Aniyia Abner, 3-year-old Takia Abner and 22-month-old Michael Coleman alone on Wednesday night last week.
The fire marshal's preliminary investigation indicated an oven left open -- possibly as a heat source -- could be the source of the blaze that killed the unattended children.