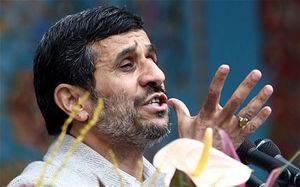 Iran's president Mahmoud Ahmadinejad on Friday claimed the uprising in Egypt heralded a new Middle East without the "satanic" influence of the West and that will doom Israel.
Despite suppressing its own opposition movement, Mr Ahmadinejad drew parallels between the protests in Egypt and the 1979 Islamic Revolution in Iran.
"In spite of all the (West's) complicated and satanic designs ... a new Middle East is emerging without the Zionist regime and US interference, a place where the arrogant powers will have no place," he told a rally in Tehran's Azadi Square to make the anniversary of the Revolution.
His comments came before Hosni Mubarak's resignation.
Tens of thousands of Iranians chanted support for Egypt's protesters and burned effigies of Hosni Mubarak.
The embattled Egyptian president has not enjoyed good relation with Iran, who are highly critical of Egypt's close relationship with the US and its peace deal with Israel.