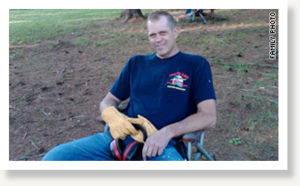 New York -- Firefighter Randy Wiebicke who, like so many New York City firefighters, toiled in and around ground zero in the months after 9/11, died Wednesday following a nearly three-year battle with multiple myeloma, an aggressive and fatal blood cancer.
Wiebicke underwent an experimental stem cell transplant procedure last summer, when his cancer was in remission. But just two months after the transplant, he developed viral infections that, ultimately, his weakening body could no longer fight.
Wiebicke's wife, Madeline, said Randy was "a man who lived his life in the spirit of what being a firefighter meant to him. When others were in danger, running out of a burning building, he was there to run in," she wrote in an e-mail. "He lived his life beautifully, in a way that inspired everyone around him. Having Randy around not only made you want to be a better person, but it showed you how to get there," she wrote.