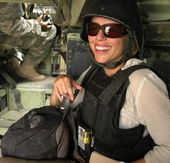 "I've got an 8 pound Bass hanging on the wall that, if he could talk, would tell you what happens when you swallow anything that is presented without checking it out really well first, and this story smells like he would after about three days in the sun !"
I was talking to a friend of mine as I scanned the international news websites starting with Matt Drudge, when the headline blared out the news . As soon as I saw it, I immediately said, I bet it's Lara Logan!.. No I didn't have special powers, or inside info, but I do have a good memory.
I remembered the 'scuttlebutt' during the Iraq war and Afghanistan recounting her interesting habit of attempting to break the monotony over there by 'boinking' several soldiers and other contract employees sometimes in the back of pickup trucks and hummers. This practice was widely known by those who could get her anything she was in need of. (transportation to the front, permission to travel to certain destinations, information she could use, etc.) That's why I said I bet its Lara Logan. It just didn't smell right. (No pun intended) but back to the story.
Full Story Here