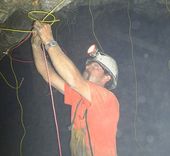 It's more than 150 years since the first prospectors headed to California in search of an elusive prize - gold.
But now their ghosts are being revived as mining companies seek to reopen the old pits and find the thousands of dollars worth of ore they left behind.
With gold selling at more than $1,300 an ounce, mining has become an attractive business prospect in the state which kicked off the Gold Rush in 1848.
Last year U.S. gold mine production increased for the first time in more than a decade, fuelled mostly by Nevada.
Now the original Gold Rush state, where mining dried up after World War Two due to price controls, is looking to join the fray.
'People say the Mother Lode's mined out. But that's not the case,' David Cochrane, vice-president of Sutter Gold Mining told the
New York Times
.