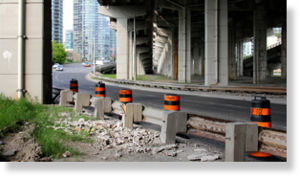 A portion of a busy downtown road was closed for about two hours Monday after a large chunk of concrete crashed to the ground.
The 4.5-kilogram chunk from the Gardiner Expressway fell onto a guardrail on Lakeshore Boulevard West just before 1 p.m., scattering debris on the road east of Bathurst Street near Dan Leckie Way.
Police closed two westbound lanes of traffic while crews cleaned up the area. It re-opened before 3 p.m.
There were no reports of injuries.
Toronto Works Committee chair Denzil Minnan-Wong said city crews would be sent to the site on Tuesday to determine if there was any structural damage.