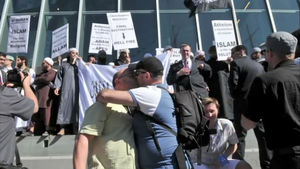 One of the most upsetting and disturbing developments in the past few years of wingnut propaganda is the attempt to define "religious freedom" as expanding the powers of the already-powerful over others, specifically with an eye towards coercing others to live by your religious rules. Even though the courts correctly (usually) see religious freedom being best protected by eliminating coercive prayer in schools, for instance, your average wingnut believes these rulings attack their religious freedom. After all, what's the point of religion if you can't impose it on others? Thus, the only way they can see to protect religious freedom is to give, say, schoolteachers the right to lead their class in prayer (as long as it's the correct Christian prayer, of course).
Same story with hollering "religious freedom" to justify giving your boss the right to impose his religious beliefs on your medical decision-making.
Your insurance benefits you earn through work are yours, and no more belong to your boss than your paycheck does. Giving your boss a right to veto coverage of your contraception because he thinks vaginas are only for baby-making is a direct imposition on your religious freedom, a clear-cut example of your boss declaring he has a right to impose his religious values on you, even in a realm as private as your medical and sexual decision-making.
(And since cost considerations exert a great deal of influence on how many women - say, someone making $10 an hour working the counter at Hobby Lobby - choose contraception, this boss's veto of coverage will actually change her choices.) But conservatives don't see employees as rights-bearing people. Just as with the "states rights" blather, the only rights they recognize are the "right" to exert power over those down the hierarchy from you.