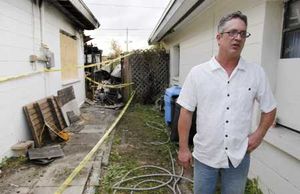 Florida - The fire was all around Dan Jensen.
He could see it. He could smell it. He could hear it.
It was close enough to touch. It was burning down his neighbor's house. It was creeping toward Jensen's own fence 10 feet away, and he started spraying the fire with his hose.
Police ordered Jensen to get back, and he complied.
But after a few minutes passed without firefighters arriving, a frustrated Jensen stepped forward and leaned down to grab the skinny gray garden hose once again.
That's when he heard the order.
"Hit 'em! Take him down! Tase him!"
Within moments, Jensen was on the ground. He felt electric.
"It was all over me," Jensen said. "Crawling all over me."