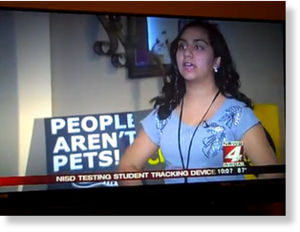 A Texas high school student will be allowed to continue going to class for now despite her refusal to cooperate with a program that forces pupils to be mandatorily tracked with computer chips.
Andrea Hernandez was told she'd be
expelled
from John Jay High School's Science and Engineering Academy in San Antonio starting next week if she insists any further on disobeying a new policy that requires students to wear ID badges equipped with tiny Radio Frequency Identification ("RFID") chips. Now attorneys with the Rutherford Institute say Hernandez has been granted a
temporary
restraining order that will prohibit the Northside Independent School District from relocating the student to another facility.
"The court's willingness to grant a temporary restraining order is a good first step, but there is still a long way to go - not just in this case, but dealing with the mindset, in general, that everyone needs to be monitored and controlled," Rutherford Institute President John Whitehead says in a statement.
"Regimes in the past have always started with the schools, where they develop a compliant citizenry.
These 'Student Locator' programs are ultimately aimed at getting students used to living in a total surveillance state where there will be no privacy, and wherever you go and whatever you text or email will be watched by the government."