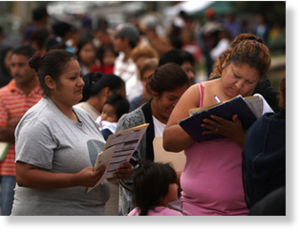 While some will spend Thanksgiving and days after it feasting on turkeys, 13 percent of Americans will rely on food stamps to avoid going to sleep hungry this holiday season.
About 42.2 million Americans will eat on a budget of $1 to $1.25 per meal this Thanksgiving as the number of people enrolled in the Supplemental Nutrition Assistance Program remains high, found a new report by The Sunlight Foundation, a nonprofit government watchdog group. The number of Americans relying on food stamps this Thanksgiving is equal to the populations of California and Connecticut combined.
The latest data from the US Department of Agriculture shows that 47.1 million Americans relied on food stamps in August - the highest number yet.
Since 2007, participation in the food stamp program has skyrocketed, increasing by 70 percent. The cost of feeding the approximately 44.7 million Americans who relied on food stamps last year cost the US government a record $72 billion.
But the high number of Americans dependent on the nutrition assistance in a struggling economy is not the only problem the US faces this Thanksgiving. This past summer's record-breaking drought has taken a toll on the food industry, causing prices to skyrocket while supplies remain low - making it even more difficult to provide Thanksgiving-style food to low-income families.