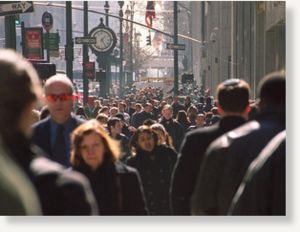 City Has Thousands Upon Thousands Of People Per Square Mile
You're walking to work, making good time, and then... someone steps in front of you, moving at a snail's pace. Or a tourist blocks your path to snap a picture. Or some knucklehead in front of you is focused on their Blackberry, not where they're going.
We've all been there. If just the thought of any of these scenarios makes you reach the boiling point, though, you may have a problem.
Apparently, you don't have to hit the road to feel the rage
.
Researchers say "sidewalk rage" is real.
1010 WINS' John Montone tries to stop and talk to some aggressive walkers in Midtown
Aggressive walkers can express their frustration in different forms and intensity levels - ranging from staring down a slow walker to physically bumping into them. Experts say acting out on sidewalk rage may be a sign of a psychiatric condition known as "
intermittent explosive disorder
."
"I am one of those sidewalk ragers, it just drives me crazy," Joe Camposo, of Westbury, confessed to 1010 WINS' John Montone. "It's either move or get out of the way. I have no patience."
Two women from Brooklyn told Montone they've been victims of sidewalk rage getting pushed, knocked down and elbowed.
Researchers are conducting studies to determine what sets people off and how it can be curbed - especially since the sidewalks aren't getting any less crowded.