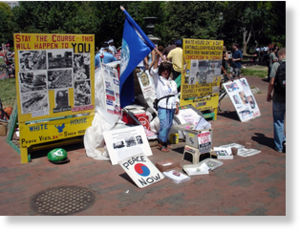 "A man, without force, is without the essential dignity of humanity. Human nature is so constituted, that it cannot honor a helpless man, although it can pity him; and even this it cannot do long, if the signs of power do not arise."


- Frederick Douglass
The strong act. The weak react. Protest is a tool of the weak. The main aim of any protest is to draw attention to an injustice. It appeals, broadcasts and seeks to impress you with its number. So many of us are feeling this way. You are few, we are many, etc. After each mass protest, there is always a disagreement over the size of the crowd, with the estimate of the organizers usually doubling that of the authority, i.e., the target of the protest.
Even without number, even when the protest is made up of a few quixotic weirdos, or just one, it can still have meaning. The sight of a lonely protester on a city street, ignored by the crowd, is basically pathetic, if not comic, but if he happens to make some sense, then his very isolation can become an indictment of this crowd. Concepcion Picciotto, born 1945, has been encamped across the White House for twenty-nine years, since 1981. She lives in a tent, surrounded by signs denouncing U.S. militarism and its support for Israel. When Picciotto began, Carter was the President who had gotten us involved in Afghanistan. In 2010, Obama is fighting the same
mujahideen
armed by Carter. As long as the guns sell, it's all good. A lonely protester is not unlike Jonah ranting away in Nineveh, except Jonah got results. Folks actually heard him and changed their ways.