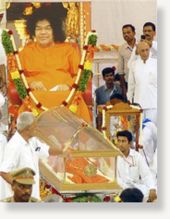 Indian spiritual guru Sri Sathya Sai Baba, revered by millions of followers as a living god, died Sunday in a hospital in southern India. He was 86.
Sai Baba, who was admitted to hospital in his hometown of Puttaparti a month ago, died of multiple organ failure, media said.
His followers, estimated to number six million, included top Indian politicians, business tycoons and Bollywoods stars.
Sai Baba, with distinctive frizzy hair and always clad in his trademark saffron robes, ran schools and hospitals through trusts in numerous countries. Questions are likely to arise over the management of his substantial assets.