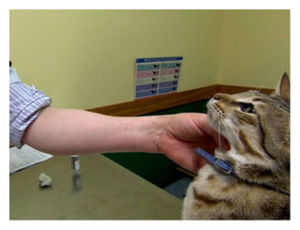 A small biotech company earned global acclaim when it announced it had produced the world's first scientifically proven hypoallergenic cat. But while it seemed like a godsend to feline fanatics with allergies, an ABC's
The Lookout
investigation explored allegations that company's cats are no more hypoallergenic than other cats.
In 2006,
Allerca: Lifestyle Pets
, aimed to fill the niche for pet lovers plagued by allergies and touted what it billed as the world's first scientifically proven, hypoallergenic cat,
ABC News
reported.
Despite price tags ranging from nearly $4,000 to $28,000, Allerca had year-long wait lists for its felines.
However, experts and several customers contested the company's claims the cats were hypoallergenic and claims of Simon Brodie, the founder of Allerca. Other customers complained that they paid thousands for an Allerca cat that they never received.
Scientists have concluded that the main reason cats can trigger allergic reactions is a protein found in their saliva and skin called Fel d1. Allerca's website acknowledged that fact but said its cats had a naturally-occurring mutation, adding that its kittens "do continue to express Fel d1, (the known allergen that is present in saliva, fur, dander etc.) but at a different molecular weight. In human exposure tests, and with further feedback from our clients ... this molecular weight does not trigger allergies in the same way that 'normal' Fel d1 does.