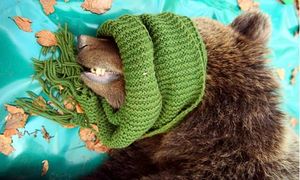 Meal was a protest against reintroduction of bears to Dolomites, says Northern League
Police have broken up a banquet of bear meat hosted by Silvio Berlusconi's powerful coalition partner in northern Italy after government ministers and animal rights groups described the event as scandalous.
The order to down cutlery came as about 200 people lined up to devour grilled and stewed bear at a rally in Imer in the Italian Dolomites organised by the Northern League.
Organisers said they had bought the meat legally in Slovenia to get round a ban on bear hunting in Italy, but food safety officers from Italy's paramilitary carabinieri police objected to the lack of import documentation for the 50kg of meat.
Speaking at the event, Enzo Erminio Boso, a former League senator, said he suspected the raid had been arranged by members of Berlusconi's People of Liberty party who earlier demanded that League leader Umberto Bossi halt proceedings.