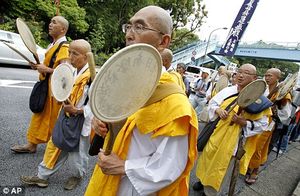 Protesters in Tokyo have staged mass demonstrations against the use of atomic power just three months after a powerful earthquake and tsunami triggered one of the world's worst nuclear disasters.
Crowds of people banging drums and shouting anti-nuclear slogans poured through the streets of the capital and descended on the head offices of Tokyo Electric Power Co, which operates the stricken Fukushima Dai-ichi nuclear plant.
The magnitude-9 earthquake which struck off Japan's north-east coast on March 11 caused a huge tsunami that knocked out power and cooling systems at Fukushima.
The huge wave set off explosions, fires and large radiation leaks at the facility, around 140 miles north-east of Tokyo.