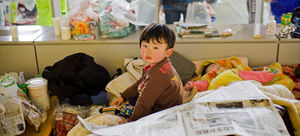 Fukushima may be in an apocalyptic downward spiral.
Forget the corporate-induced media coma that says otherwise ... or nothing at all.
Lethal radiation is spewing unabated. Emission levels could seriously escalate. There is no end in sight. The potential is many times worse than Chernobyl.
Containing this disaster may be beyond the abilities of Tokyo Electric or the Japanese government.
There is no reason to incur further unnecessary risk. With all needed resources, it's time for the world's best scientists and engineers to take charge.
Even then the outcome is unclear.
For a brief but terrifying overview, consult Dr. Chris Busby
as interviewed by RT/TV
.
Fukushima Units One, Two and Three are all in various stages of melting down.